I have quite a few different things I need to be crocheting for this fall. My husband's cousin is getting married (well, his second cousin), one of his former coworkers is having a baby. I also had 2 weddings on my side of the family earlier this summer. I didn't get anything done for them, but wanted to.
I'm actually working on a baby blanket first, since the baby shower is next weekend. I've spent so little time crocheting lately that the blanket won't be ready for next weekend, but I've at least started. I'm only about 1/4 done, but I'll get there.
The problem with the crocheting has been partially stress from work. Shortly after I posted about the Halloween wreath, the girls in my department and I were told that our department was reorganizing. They were splitting us up, and 5 jobs in town were going to end up being 3 jobs, with the other two moving to another state. They never did hire anyone for one of the jobs that was moving, so I offered to do it from here, and I was hired.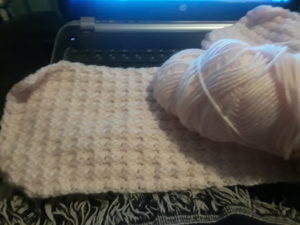 I'm now extremely busy and trying to find time for my two favorite past-times – writing and crafting. I may end up adding some cooking to the mix, since I cook breakfast every week for church, and I might as well document some of what I make.
The pattern for the baby afghan I am making can be found at http://moderngracedesign.blogspot.com/2012/09/baby-blanket-free-pattern.html I have two shades of pink for the blanket and a purple for the edging. I think I'm going to alternate strips for the pink. Since I just decided it, I had better do it now. It'll probably end up with two smaller and two larger stripes.
Once I get the afghan completed, I will update this post with the finished product.
Update 11/17/20 I forgot to get a picture before I gave the baby afghan to my husband's coworker.