The next project I decided to work on was a request from a former coworker. Since I've been just repeating the dishcloths and towel toppers, I thought that it would be nice to take a break and work on something else.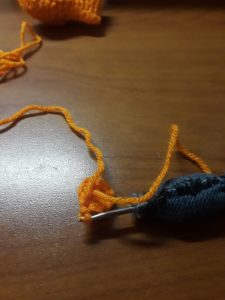 My friend/former coworker is a mother of 3, all at 14 months right now. Though some might say she has triplets, she says she has twins and a single, but they're all the same age. Either way. She thought that this no fuss fish would be a good place for her kids to start with pet care. She sent me this link: http://edenreborn.com/crochet/no-fuss-fish-free-crochet-pattern/ and asked me to make 3 of them for her. She wanted all of them to be orange like the main one.
So I decided I want one at my desk at work, and I'm making four 🙂 I haven't decided what color I want mine to be – I may just use the orange since I have plenty with the one skein I have. I may even make extra to try to sell on Etsy.
This is really my first time using a sport weight yarn. To get an orange color, I bought Hobby Lobby's I Love this Yarn in orange with a sport weight. I couldn't find it in the heavier weight.
This was my first time working on an amigurumi type item as well. It was an interesting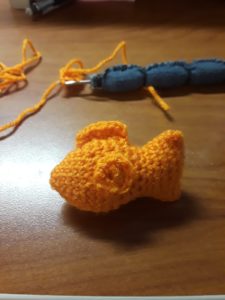 project to start with. I've only completed one fish, but I had to start multiple times because I didn't like how he was turning out. I have everything else I need at home except for the bigger stones and green yarn for the plant. I bought pastel aquarium stones to use instead of the plain ones on the blog post. I do need to get a few of the bigger stones to glue the plant to, and to get the glue to hold everything – in the blog post, she suggests Elmer's glue. I can glue the top with a hot glue gun, but I can't do that with the rocks.
I'm also figuring out that I need to get better reading glasses when I'm working on amigurumi projects, as I couldn't see the stitches very well. Oh, the joys of getting old.